Flying American Airlines before the end of the month?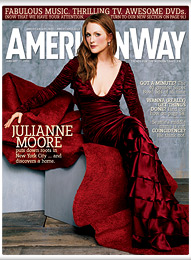 If you're flying American Airlines between now and the end of this month, have a look a their inflight magazine,
American Way
. The current issue (dated January 15, 2006) is supposed to contain a little write-up in their books section about
Robert J. Sawyer Books
, the line of science-fiction books I edit for Red Deer Press. The piece is by Tracy Staton.
I won't be flying AA myself this month, but I'd be very grateful to anyone who could pick up copies for me. My mailing address is:
Robert J. Sawyer
100 City Centre Drive
PO Box 2065
Mississauga, ON
Canada L5B 3C6
Many thanks!
---