It's a good day ...
... when you make money without working. :)
Got word today that my agent Ralph Vicinanza has just sold Spanish rights to my 1996 Hugo, Nebula, and Seiun Award finalist (and Aurora and HOMer Award winner)
Starplex
to Libros del Atril in Barcelona. It's way cool when something I wrote more than a decade ago suddenly earns me several thousand additional dollars.
But let us not forget short stories! Also got word today that my short story "Relativity," originally written for the anthology
Janis Ian's Stars
, edited by Mike Resnick and Janis Ian, will be reprinted in the Canadian SF anthology
North of Infinity III
(follow up to the just-published
North of Infinity II
), edited by Mark Leslie.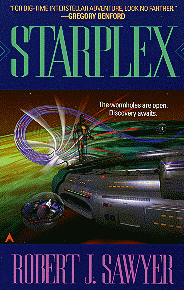 ---