The Jagster to the rescue!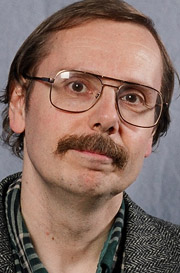 James Alan Gardner
is a great science-fiction writer, and one of my best friends. And tonight, he was there for me when I needed him.
The repercussions of the car accident involving one of my family members that I mentioned yesterday are continuing, and I spent most of today back at the hospital. In total, I got maybe three hours' sleep between yesterday and today.
But tonight was my long-scheduled first public seminar at the Kitchener Public Library as the Tenth Annual Edna Staebler Writer in Residence there. It was a two-hour event on the basics of getting published --
Heinlein's rules
, finding a market,
manuscript format
,
agents
, copyright, etc. Normally, I could do that easily, but I was just so shagged today that during the hour-long drive to Kitchener, I called Jim Gardner and asked him to come along and co-present the material with me.
It came off brilliantly. I told the audience why I was off my peak, and they were very supportive. And Jim and I played off each other very well. It turned out to be a very pleasant evening, with lots of wonderful audience participation. Many thanks, Jim!
Exhausted now. Bed.
---