Rollback in my hands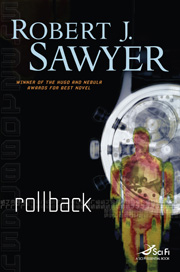 ... well, almost!
Carolyn tells me a couple of copies of
Rollback
, my 17th novel, have shown up at our place in Toronto (I'm in the Air Canada lounge at the Calgary Airport right now, heading home after giving my talk to the Royal Astronomical Society of Canada's Calgary Centre). She says they look gorgeous! (And I can believe it -- the finished dustjacket, which I have seen, is stunning.)
Woohoo!
Official pub date is now 15 days away ... :)
The Robert J. Sawyer Web Site
---