Message that went out to Rob's mailing list today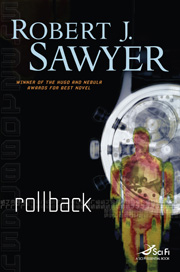 This mailing went out today to all the people on my email list. If you'd like to be added directly to my email list -- I only send out notices once or twice a year -- drop me a note at: sawyer@sfwriter.com
---
Hello, Robert J. Sawyer reader!
I'm delighted to announce the release of my 17th novel,
Rollback
, which has just been published by Tor.
Rollback
is a novel about rejuvenation and the search for extraterrestrial intelligence. You'll find oodles about the book
here
.
===
BOOK TOUR!
The book is already out, but the official Canadian launch party in Toronto is Saturday, April 14, at 3:00 p.m. at Bakka-Phoenix Books, which is now at 697 Queen Street West (just west of Bathurst).
And the US launch party is Sunday, April 15, at 3:00 p.m., at Write Book and Gift -- the store co-owned by Hugo Award-finalist Nick DiChario -- in Honeoye Falls, NY.
In addition, I'll be traveling to 20 cities in the United States and Canada to promote the release of the ROLLBACK:
USA:
Denver, CO; Orlando, FL; Honeoye Falls, NY; Albany, NY; Richmond, VA; Alexandria, VA; Washington, DC; Camp Hill, PA; Milford, NH
CANADA:
Vancouver, BC; Edmonton, AB; Calgary, AB; Saskatoon, SK; Winnipeg, MB; Sudbury, ON; Sarnia, ON; London, ON; Woodbridge, ON; Toronto, ON; Oshawa, ON
The tour schedule, with dates, times, and venues, is
here
.
===
The early reviews for ROLLBACK have been great:
PUBLISHERS WEEKLY
: "Sawyer, who has won Hugo and Nebula awards, may well win another major SF award with this superior effort." (starred review, denoting a work of exceptional merit)
QUILL & QUIRE
(the Canadian publishing trade journal): "
ROLLBACK
is a reminder of why Sawyer is one of our most highly regarded writers of speculative fiction, able to handle the demands of the heart and the cosmos with equal skill."
ANALOG
: "Extraordinarily fresh and thought-provoking.
ROLLBACK
is a thoroughly engaging story, with some of the most memorable people you'll ever meet."

SCIFIDIMENSIONS
: "
ROLLBACK
is a shoo-in to be short-listed for next year's major awards."
===
More about ROLLBACK
The Robert J. Sawyer website
Rob's blog
Rob's 1,100-member discussion group
Rob in MySpace
Booking Rob as a Keynote Speaker
---