Rollback now out!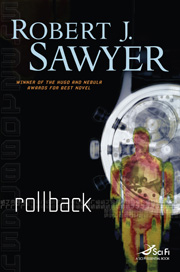 It's showtime! Today -- Tuesday, April 3, 2007 -- is the official publication date for my 17th novel,
Rollback
. It's now shipping from online retailers, and people have reported buying it in retail stores.
On my website you'll find the
opening chapters
, the
dustjacket text
, a book-club / reading group
discussion guide
, and
much more
.
I'll be touring to 18 cities in support of the release -- check out the tour dates
here
.
The early reviews have been fabulous:
"Robert J. Sawyer has a way of taking familiar ideas, looking at them from new angles and in greater depth than almost anybody before him, and tying them together to create extraordinarily fresh and thought-provoking stories. Rollback is a thoroughly engaging story, with some of the most memorable people you'll ever meet." -- Analog

"Sawyer's investigation of rejuvenation loads a fascinating story with difficult issues. Don makes mistakes, yet he and Sarah are good people and thoughtfully constructed characters. Rollback exploits two staple sf tropes to produce a nicely executed, human-scale story." -- Booklist

"Rollback gets my vote as SF novel of the year. A joy to read." -- Jack McDevitt, author of Odyssey

"Canadian author Sawyer once again presents likable characters facing big ethical dilemmas in this smoothly readable near-future SF novel. Sawyer, who has won Hugo and Nebula awards, may well win another major SF award with this superior effort." -- Publishers Weekly (starred review, denoting a work of exceptional merit)

"The repercussions of the rollback surgery are genuinely surprising, but rooted firmly in the skillfully crafted and realistic thoughts and emotions of Don and Sarah. When the plotlines converge late in the book, it is a reminder of why Sawyer is one of our most highly regarded writers of speculative fiction, able to handle the demands of the heart and the cosmos with equal skill." -- Quill & Quire

"A fascinating human drama, where joy and tragedy take human form, rather than apocalyptic ones. All in all, it's a 'skytop' story, worth reading by genre and mainstream readers alike." -- SFRevu
The Robert J. Sawyer Web Site
---