Harder Star Trek trivia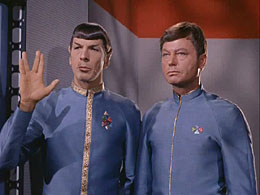 My friend Shoshana Glick mentions
in a comment to this post of mine
that those weren't really very hard
Star Trek questions on Jeopardy!
a few days ago. I agree.
So, here are a few super-hard ones of my own devising, with suggested
Jeopardy!
dollar values. If you know the answers, put them in a comment to this blog entry.
$200:
James Kirk's middle name is Tiberius, as established in the animated episode "Bem" by David Gerrold, and reaffirmed by General Chang in the movie
Star Trek VI: The Undiscovered Country
. But where in The Original Series do we see his middle initial as something else? And what initial was it?
$400:
We all know that Jim Kirk eventually ends up wearing eye glasses, because he's allergic to retinax -- but where do we see a member of the
Enterprise
crew wearing eye glasses prior to that? (Which episode, and in what room?)
$600:
"The Conscience of the King" and "The Immunity Syndrome" contain glaringly contradictory statements about the history of the Vulcan people. In what way do they disagree?
$800:
Gene Roddenberry has a cameo of sorts in one episode of the original series. What was it? (Which episode, what role?)
$1,000:
Kirk tells Captain Christopher in "Return to Tomorrow" that the
Enterprise
's command authority is "the United Earth Space Probe Agency," a name never heard again. But Kirk refers to the organization by its acronym UESPA (which he pronounces "yoo-spa") in one other episode -- which one?
Final Jeopardy:
Jim Kirk's brother George Samuel Kirk -- called Sam -- is established in "What Are Little Girls Made Of?" Sam's family appears in "Operation -- Annihilate!" Although he's referred to only as Sam in dialog in that later episode, there's still an acknowledgment that his full name really is George Samuel Kirk. What is it?
(Yes, I really do know my
Star Trek
-- in fact, back in the early 1980s, I even wrote part of a
Star Trek
novel, which you can
read here
.)
The Robert J. Sawyer Web Site
---