Half a Wake ...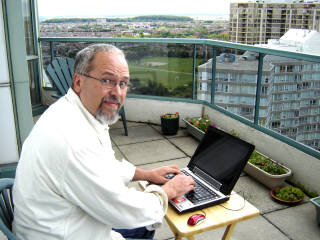 I sent the first 207 manuscript pages of
Wake
-- about half the book -- to Barbara Berson, my editor at Penguin Canada, today (and I'll be sending her and Ginjer Buchanan, my US editor, the rest next month).
Wake
is the first volume of my new
WWW
trilogy.
I note for the record that I have the best friends
ever
. I wanted to have some fresh eyes look at the material before it went to my editor, so on Thursday, January 10, I gave the latest draft of the first 174 pages of the book to some beta-test readers -- and all these fine folks had detailed comments to me by Sunday night, January 13:
Ted Bleaney

David Clink

Marcel Gagné

Al Katerinsky

Herb Kauderer

Fiona Kelleghan

Ariel Reich

Sally Tomasevic

Hayden Trenholm
These fine folks dropped everything on incredibly short notice to help a friend in need, and I thank them profusely!
(That's Herb Kauderer above, writing his own fiction on the balcony of my penthouse back in September 2006.)
The Robert J. Sawyer Web Site
---