Stan Schmidt for the Hugo!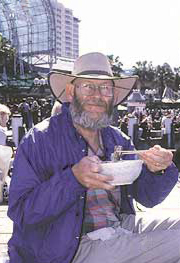 Stan's the man!
I received the latest progress report from Denvention, this year's World Science Fiction Convention, today here in Canada, and it contains the Hugo voting ballot. So it's a good time to remind people of all the reasons, back at the nomination stage, that I suggested it's
high time Stanley Schmidt got a Hugo
.
This year, 2008, is the 30th anniversary of
Stanley Schmidt
becoming editor of
Analog Science Fiction and Fact
. Despite
Analog
being consistently the English-speaking world's #1 best-selling SF magazine for that entire period, Stan has never won a Hugo Award for Best Editor.
Stan's own web page is
here
. In addition to 2008 being Stan's 30th anniversary as editor of
Analog
, it's also his 40th anniversary as a published SF writer. Besides actually editing
Analog
(and in a very hands-on fashion, working diligently with his writers), it should be noted that Stan is the only editor of a major SF magazine to write an editorial for each issue, and his editorials are in themselves worth the cost of the magazine.
The Robert J. Sawyer Web Site
---