James Alan Gardner for the Hugo and Aurora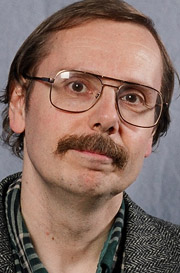 This is the seventh in a series of blog posts in which I'm going to discuss people and things that I think merit consideration for this year's Hugo and Aurora Awards; both sets of awards will be given at the Montreal Worldcon this year.
Those of you who've read my novel
Wake
as it was serialized in
Analog
will have encountered the open-source competitor for Google known as Jagster. As I wrote:
In the tradition of silly Web acronyms ("Yahoo!" stands for "Yet Another Hierarchical Officious Oracle"), Jagster is short for "Judiciously Arranged Global Search-Term Evaluative Ranker" -- and the battle between Google and Jagster has been dubbed the "Ranker rancor" by the press ...
But the name Jagster is really a homage to my great friend
James Alan Gardner
of Kitchener, Ontario, the finest SF short-fiction writer Canada has ever produced.
And in 2008, the Jagster published one of his very best short stories ever:
"The Ray-Gun: A Love Story,"
in the February 2008
Asimov's
. The piece begins in typical Gardner fashion: "This is a story about a ray-gun. The ray-gun will not be explained except to say, 'It shoots rays.'"
I had the privilege of workshopping this story prior to its publication, and was blown away. Since it came out, others have sung its praises, too. See, for instance,
this review
over at the always-interesting
SF Gospel
blog from January 6 of last year, which concludes, "This early in the year, we already have a strong contender for next year's Hugo for Best Novelette."
I didn't see a better story all year long.
Gardner Dozois
has picked it up for his annual
Year's Best Science Fiction
, and
Rich Horton
has grabbed it for his
Science Fiction: The Best of the Year
.
It's one of only nine novelettes to have made SFWA's Preliminary Nebula Award ballot. It deserves a place on the final Nebula ballot ... and on the final Hugo ballot, too (and it'll be criminal if it's not on the Aurora Award ballot). I recommend it without reservation:
For the Hugo Award for Best Novelette and the Aurora Award for Best Short Form Work in English:
You can read the whole wonderful story online
here
.
The Robert J. Sawyer Web Site
Labels: Awards 2009
---