The End of the Road Show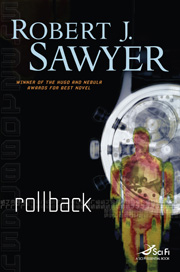 The by-car Southern Ontario book tour for
Rollback
could not have ended better. We had a packed house at the Chapters Bookstore on Fanshawe Road in London, Ontario. They'd originally only had a handful of chairs set up, but people kept pouring in, and they had to keep getting more chairs. It was a great audience, with great questions, and, at the end, the events coordinator there said to me, "Thank you for showing me what's possible for an author event." Go me! :)
I hit the road four weeks ago today promoting
Rollback
, starting with the book launch at Toronto's Bakka-Phoenix Books. I've done events now in Toronto, Ontario; near Rochester, New York; Albany, New York; Harrisburg, Pennsylvania; the Library of Congress in Washington, D.C.; Richmond, Virginia; Alexandria, Virginia; Winnipeg, Manitoba; Vancouver, British Columbia; Edmonton, Alberta; Calgary, Alberta; Saskatoon, Saskatchewan; Oshawa, Ontario; Vaughan, Ontario; Kitchener, Ontario; Sarnia, Ontario; and London, Ontario. I did events at a nice mixture of science-fiction specialty stores, independent bookstores, big chain stores, and public libraries.
I hit the local bestsellers' lists in Winnipeg, and Canada's national
BookManager bestsellers' list
.
I got major review coverage; lots of radio interviews, including nationally on the CBC, CBC affiliates in Regina, Calgary, and Windsor; other stations in Montreal, Edmonton, Winnipeg, Philadelphia, Olympia (Washington state), Nashua (New Hampshire), and even Vienna, Austria, plus the National Public Radio affiliate in Rochester, New York; TV interviews in Toronto, Kitchener, Edmonton, and Winnipeg; lots of online and blog coverage; and major write-ups in the arts weeklies in Vancouver, Calgary, Edmonton, and Saskatoon; and the
cover of Quill & Quire
the Canadian publishing trade journal.
And now, at last, I'm done with the different-city-every-day whirlwhind. I still have events in Denver next weekend and Orlando the weekend after, but the marathon of book touring is over. Whew!
The Chapters chain has always been very good to me, and I'm very grateful for their support; this is the sign on the London store
A placard advertising my event
The place was packed!
Who am I to argue with the sign?
Cool shirt!
Dinner afterwards at Swiss Chalet with members of Science Fiction London, the local SF club
Rob's old friend Richard Gibbens, a member of Science Fiction London
The Robert J. Sawyer Web Site
---