by Rob - January 29th, 2008.
Filed under:
Uncategorized
.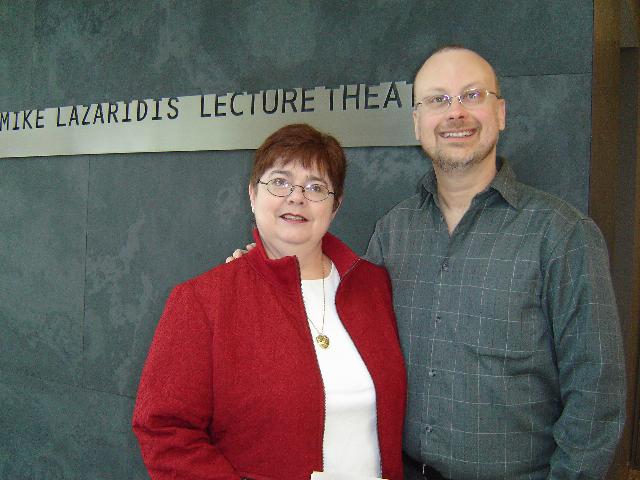 Sharron Smith is one gutsy lady. There are lots of community-wide reading programs in North America. Every once in a while, one of them will do a science-fiction book … but they always do it stealthfully, choosing books that aren't labeled or marketed as science fiction.
But when Waterloo Region, almost half-a-million people west of Toronto, chose my Hominids for their "One Book, One Community" program, they made history: a community-wide program to read a science-fiction book that was openly identified as such. It was a bold initiative, and, as I learned during that wonderful year, huge numbers of people who had never read SF before discovered that the genre really did have something to offer them.
One of the key players behind the choice to do Hominids has just been honoured in her own right, and I'm totally, totally thrilled for her: Sharron Smith has just been named Ontario's Librarian of the Year. That's Sharron and me above, outside the Mike Lazaridis Lecture Theatre at the Perimeter Institute for Theoretical Physics in Waterloo, Ontario, where the press conference announcing the choice of Hominids was held in April 2005.
Sharron and I have kept up our association since: I spoke to her library-based book-club (again, readers who normally never read science fiction) when I was the Kitchener Public Library's Edna Staebler Writer-in-Residence in 2006, and last year I was keynote speaker at an Ontario Public Libraries' Readers' Advisory Symposium Sharron chaired.
Below is the press release from the Kitchener Public Library on Sharron's win. Congratulations, Sharron!
---
Kitchener Public Library Manager Named Librarian of the Year
Kitchener Public Library is proud to claim one of its own as the Province's top librarian. Sharron Smith, Manager of Readers' Advisory Services, was recently selected by the Ontario Library Association for the prestigious W.J. Robertson Medallion. Named in honour of one of the Library Association's founding members, and more commonly known in the profession as "The Librarian of the Year," the award formally recognizes the one individual in the profession who has demonstrated outstanding leadership in the advancement of public library service in Ontario.
One look at Smith's contributions to librarianship and you won't wonder why she received the award, but rather why it took so long.
Sharron Smith has worked at Kitchener Public Library since 1990 and is currently the Manager of Readers' Advisory Service, a position she has championed for the past decade. It is Sharron's passion for reading — and helping others find the perfect great read — that has drawn the attention of librarians not only across the Province, but across the continent. Sharron is a much sought after speaker and trainer on the complex subject of readers' advisory and has spoken at library conferences in Ontario, Quebec, British Columbia, and in the United States. Sharron is the founding Chair of the Ontario Library Association's Readers' Advisory Committee and serves as a member of the same committee for the American Library Association.
Sharing what you know is the hallmark of a true professional. Sharron teaches the art of readers' advisory to aspiring librarians at the University of Western Ontario's Faculty of Information and Media Studies; and in 2005, she co-authored Canadian Fiction: A Guide to Reading Interests, a reference book now used by librarians across the country.
Locally, avid readers will know Sharron from her popular Saturday morning library book club and from her regular book-talk appearances on local radio and television programs. Sharron is also a founding member of our Region's "One Book One Community" Advisory Committee and a key organizer for the popular annual book festival "Word on the Street."
"Sharron Smith's name is synonymous with readers' advisory" says Sonia Lewis, Kitchener Public Library's CEO. "She has been a true leader in this field, inspiring countless librarians with her knowledge and passion for the fine art of matching readers with good books. When it comes to readers' advisory, she is the best."
And it's because she's the best that Sharron is to be honoured by her colleagues this year. Sharron Smith will officially receive her Librarian of the Year award on January 31st at the annual Public Library Awards dinner, held in conjunction with the Ontario Public Library Association's Annual Super Conference.
The Robert J. Sawyer Web Site