by Rob - July 29th, 2008.
Filed under:
Wake
,
WWW
.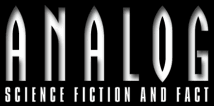 The October 2008 issue of Analog Science Fiction and Fact is out, and in the "In Times to Come" section at the back, which plugs the following issue, we find this teaser for my next novel, Wake:
Next month (our November issue) we begin another mind-stretching serial by Robert J. Sawyer, with a cover by George Krauter. In Wake, the term "mind-stretching," often heard in connection with science fiction, applies a bit more literally than usual, with several minds stretching themselves — and each other — in literally unprecedented ways. All minds operate under limitations, which can be overcome by a variety of means; but probably all of those approaches have one thing in common. And the possibilities extend very far out, in ways both exhilarating and terrifying….
The Robert J. Sawyer Web Site