by Rob - November 7th, 2009.
Filed under:
FlashForward
.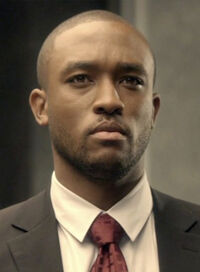 For fans of
FlashForward
, the ABC TV series based on
my novel of the same name
, a historical note on Agent Al Gough (played wonderfully by Lee Thompson Young), who had the big story line this past week (in "The Gift").
In the actual TV series, he should be credited as the character who, in the story, coined the term "flashforward" for the event. There was a scene filmed for the pilot ("No More Good Days") in which Agent Janis Hawk (the amazing Christine Woods) appeared to coin the term (and that part of the scene was used in some of the promos), but her line was cut from the pilot as aired, so the credit for coining the term in-universe goes to Gough, who first uses it when discussing Fiona Banks with Demetri and Mark.
Visit The Robert J. Sawyer Web Site
and WakeWatchWonder.com