by Rob - July 30th, 2012.
Filed under:
Auroras
,
Awards
.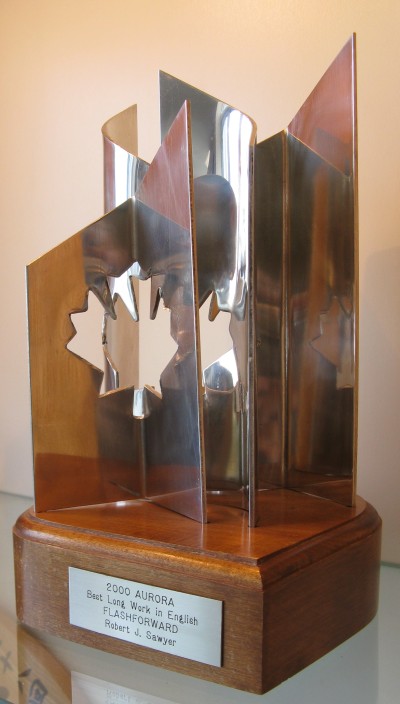 So, the Aurora Awards committee — which has been AWFULLY proactive — has announced its intention to lobby for the creation of YAAA (Yet Another Aurora Award) at this year's CanVention AGM, which takes place at When Words Collide in Calgary, August 12-14. My take:
They want to create a YA novel award. Note that YA fiction is already eligible for the best-novel Aurora, and has been nominated and won in that category in the past; nothing excludes YA fiction from making the ballot right now. Note, too, that the best-novel award currently comes with a $500 prize courtesy of SF Canada — one wonders if the people behind the YA initiative intend the $500 prize to now be split? Note too that JUST LAST YEAR we added a new category to the Auroras (poetry/song lyrics).
My position is this for ANY award, not just the Auroras: you want to add a new category? Fine. Show me what your likely ballot might have looked like for the last three years if that category existed.
There are five finalists in each Aurora category (unless there's a tie), so tell me, folks: what five Canadian YA SF&F novels would have been on your ballot last year (works published in 2010), the year before (works published in 2009), and the year before that (works published in 2008).
DON'T just list five Canadian YA SF&F novels — no one disputes that five were likely published each year. List five WORLD-CLASS, AWARD-CALIBRE ONES for each of those years. Maybe they exist, maybe they don't — but if you want my vote and support at the AGM, it's up to you to convince me that they do. Because otherwise you're cheapening the status of being an Aurora finalist. We don't want to have any more categories in which just about everyone who does any work — regardless of quality — in that area becomes essentially an automatic nominee, because, y'know, we need five works to flesh out the ballot.
I've been arguing for years for those proposing new categories to put forth sample ballots from previous years. As I said in 1997:
Periodically, new Aurora categories are suggested. Among those put forth recently include best graphic novel, best TV show or movie, best poem, and best web site — many presumably with separate French and English trophies to be presented. I believe there already are too many Aurora Awards; adding more simply cheapens the value of each one. However, when a new category is proposed, I believe the proposer should be required to put forth mock ballots listing full slates of credible nominees for the previous three years in the suggested category: if five truly award-caliber works cannot be found in each of the preceding three years in a proposed award category, clearly there is insufficient quality work being done in that area in Canada to justify an annual competitive award for it.
Regardless of what sample ballots are put forth, if any, at this year's AGM, I'm going to introduce a motion that we adopt this bylaw: whenever a new Aurora Awards category is created, a five-year moratorium is imposed on adding any additional categories.
Robert J. Sawyer online:
Website • Facebook • Twitter • Newsgroup • Email