by Rob - September 26th, 2014.
Filed under:
Golden Fleece
,
Milestones
.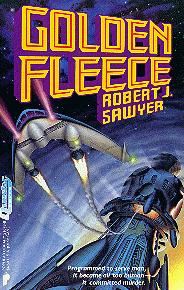 Twenty-five years ago today, on 26 September 1989, when I was 29 years old, I finished the manuscript for what would turn out to be my first published novel, Golden Fleece, and sent it off by courier to my then-agent, Richard Curtis.
(The first novel I actually wrote was End of an Era, but that was published later.)
Golden Fleece was published in December 1990 by Warner Books under the Questar Science Fiction imprint. Orson Scott Card, in his year-end summation in The Magazine of Fantasy & Science Fiction, later named it the best SF novel of 1990, and it won me my first two awards:
The CompuServe Science Fiction and Fantasy Literature Forum's Homer Award for Best First Novel of 1990
The Canadian Science Fiction and Fantasy Association's Aurora Award for Best Long-Form Work of 1990-1991
(And it made the Preliminary Nebula Award Ballot and, in its Japanese translation, was a finalist for Japan's top SF award, the Seiun.)
I won't say it seems like only yesterday; in fact, it seems like a lifetime ago. But I'm still very proud of that book.
Here are some reviews of the novel.
Alien SETI radio message received in Golden Fleece.
Robert J. Sawyer online:
Website • Facebook • Twitter • Email