by Rob - January 11th, 2007.
Filed under:
Uncategorized
.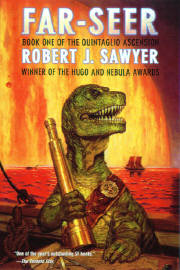 Lots of nice news in the last 48 hours. First, I'm going to be this year's Guest of Honour at GenreCon, the nifty one-day genre-fiction con held in Sarnia, Ontario; the date is Saturday, May 12. Robert Charles Wilson and I were at GenreCon two years ago for the Rob and Bob Tour for Mindscan and Spin, and we had a blast.
Second, A.Y. Jackson, a high school in Toronto, has selected my Far-Seer as the book for its school-wide "Jackson Reads" program; I'll be going in to spend a day with the students in April.
The Ottawa Citizen commissioned another op-ed piece from me — more about that later.
Got a reprint story of mine accepted for the limited-edition anthology being put together by Stephen Jones for the Toronto World Horror Convention.
Got asked to appear on the Toronto radio program Benmergui in the Morning on Jazz FM91, to talk about the future of music-listening technology; I'll post the air date here as soon as I know it.
Received my membership reimbursement from last year's Worldcon (panelists have to buy a membership like anyone else, but if the con makes money, they get a refund).
Betsy Wollheim of DAW Books phoned, just to thank me for blurbing one of her upcoming books.
A friend gave me DVDs with copies of most of the episodes of Search, a 1972 TV series I loved that's never been released commercially on VHS or DVD.
Life be good. :)