by Rob - March 26th, 2007.
Filed under:
Uncategorized
.
Recognize her? That's Gillian Deacon, former co-host of @discovery.ca, the nightly science program on Discovery Channel Canada. I used to be a regular columnist for them in the 1997-98 season, doing a segment called 2020 Vision, and on January 2, 2000, Gill and I co-hosted a two-hour prime-time documentary for Discovery Channel Canada called Inventing the Future: 2000 Years of Discovery.
After that, Gill took a hiatus from being on TV (and no, smartypants, it wasn't because she was traumatized by working with me — she took a break to start a family), but now she's back hosting a daily show on CBC Television called — appropriately enough — The Gill Deacon Show.
Gill and I had a reunion today, as I taped an appearance for that show, which will air this Wedensday, March 28, at 11:00 a.m. and 2:00 p.m. coast-to-coast in Canada.
Although Gill very nicely plugged my upcoming novel Rollback, this was actually more a Rob-as-citizen piece. I was on defending the notion of suburban living against a couple of filmmakers who have produced a mockumentary about the horrors of living in the suburbs. (I live in Mississauga, which, although a city of 650,000 in its own right, abuts Toronto's western border, and is often thought of as a Toronto suburb.)
Anyway, if you're in Canada, check it out on Wednesday! Given that I've had a miserable cold for the last few days, I think I acquitted myself all right, but you can be the judge of that … :)
Here's a picture of Gill and me, from back in the day …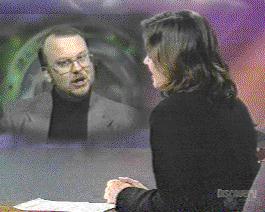 The Robert J. Sawyer Web Site