My Alberta adventures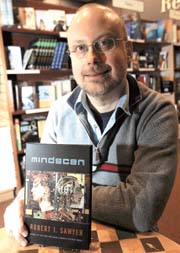 A fabulous week on the road come to an end.
On Friday, January 27, 2006, I flew to Edmonton, Alberta, courtesy of the Canada Council for the Arts. That afternoon, I had a terrific get-together with Diane Walton and Danica LeBlanc, both of
On Spec: The Canadian Magazine of the Fantastic
, at the magazine's offices in downtown Edmonton. Next up was an interview with Anna Borowiecki of the
St. Albert Gazette
(which ran this picture of me, taken the next day, accompanying her article). Then it was off to a wonderful steak dinner with local writers Barb Galler-Smith and
Ann Marston
, and Barb's husband John.
Saturday, Jaline, the district sales rep for H.B. Fenn and Company, Tor's Canadian distributor, took me around to various stores for drop-in signings, then it was off to the Chapters superstore in St. Albert (near Edmonton) for a well-attended signing and reading from
Mindscan
(I read the scene where the uploaded Jake first wakes up in his new body). Dinner that night was pizza with
Minister Faust
, the brilliant Edmontonian author of
Coyote Kings of the Space-Age Bachelor Pad
.
Sunday morning, it was brunch with my friend Phil Currie, one of the world's leading dinosaur experts, his wife paleontologist Eva Kopplelhus, and one of their grad students (having earlier in the day met with some more of Phil's grad students at Phil's new lab at the University of Alberta, where he's now working). After that it was time for the main event -- my reading at the
Edmonton Public Library
; I read the examination and cross-examination of Caleb Poe, from
Mindscan
. The event was very well attended, and the bookseller (Audrey's Books) sold lots of copies of my books (intriguingly, more hardcovers than paperbacks of
Mindscan
-- they had both in stock). After that, it was dinner with my friends Jeff Krehmer (of Calgary's
Imaginative Fiction Writers' Association
) and his girlfriend Shawn Moore; Jeff then drove me down to Calgary.
On Wednesday morning, I went to the University of Calgary, and spoke to the science-fiction class there. Prof. Ruby Ramraj teaches my novel
Golden Fleece
, and this was the second time I'd visited one of her classes. The students had lots of great questions. For instance, one of them had read both
Golden Fleece
(my first novel) and
Calculating God
(my twelfth), and had noted that the amount of science I expected the reader to be familiar with before starting the book was much less in my more recent title. He asked if this was deliberate, and I said it indeed was --
Golden Fleece
was designed solely for the science-fiction reader, but, starting with
The Terminal Experiment
in 1995, I'd been very deliberately trying to make my SF accessible to mainstream readers without alienating the core SF audience; it's a delicate tightrope walk.
Two of Phil Currie's grad students came to this class as well, as did Mary Hemmings, a librarian involved with the
Gibson Collection
, a massive donation of science fiction and fantasy given a few years ago to the University of Calgary. After my talk, she and I and English-department member
Christian Bök
went out for coffee, then Mary and I went for lunch. Wednesday night was dinner out with Randy McCharles, chair of the 2008 World Fantasy Convention in Calgary, at my favorite Calgary pizza place, Greco.
Thursday was the monthly meeting of IFWA, the Imaginative Fiction Writers' Association. Beforehand, I dropped by
Sentry Box
, Calgary's SF specialty store (and saw there for the first time the cover for
Slipstreams
, the DAW anthology coming in May that features my short story "Biding Time," a sequel to my current Nebula Award-finalist "Identity Theft"). Then it was off to pre-meeting drinks at Jackdaws, the pub across the street.
The meeting itself featured a panel discussion by those (including myself) who have taken agent Donald Maass's terrific
"Writing the Breakout Novel"
seminar. After the meeting, it was off to a different pub for more food, drink, and great conversation. I spent a lot of time there talking to
Danita Maslan
, whose wonderful novel
Rogue Harvest
is the most recent title under the
Robert J. Sawyer Books
imprint I edit for Red Deer Press.
And now I'm back home in Mississauga. It was a truly terrific trip.
---