by Rob - June 22nd, 2010.
Filed under:
Awards 2010
,
Wake
.
WWW: Wake by Robert J. Sawyer is a finalist for the John W. Campbell Memorial Award — the principal juried award in the science-fiction field (and not to be confused with the other John W. Campbell Award — the one for best new writer).
(Wake is also a current Hugo Award finalist and recently won Canada's Aurora Award.)
This is a particularly good year for Canadians and the Campbell Memorial, with four of us on the shortlist: Atwood, Doctorow, Sawyer, and Wilson (and all but Atwood are previous winners).
Margaret Atwood, The Year of the Flood (Nan A. Talese)

Paolo Bacigalupi, The Windup Girl (Night Shade Books)

Iain M. Banks, Transition (Orbit)

Cory Doctorow, Makers (Tor)

Nancy Kress, Steal Across the Sky (Tor)

Paul McAuley, Gardens of the Sun (Gollancz)

China Mieville, The City & the City (Del Rey)

Adam Roberts, Yellow Blue Tibia (Gollancz)

Kim Stanley Robinson, Galileo's Dream (Spectra)

Robert J. Sawyer, WWW: Wake (Ace / Penguin Canada / Gollancz)

Bruce Sterling, The Caryatids (Del Rey)

Robert Charles Wilson, Julian Comstock: A Story of 22nd-Century America (Tor)
I am now in a three-way tie (with Jack McDevitt and Sherri S. Tepper) for the most Campbell nominations in history (we each now have five); only Greg Bear, with eight nominations, has more — and Greg's never won; I did in 2006 for
Mindscan
.
My nominations to date were for Calculating God (2001); Hominids (2003); Mindscan (2006); Rollback (2008); and now Wake (2010).
The current Campbell jury consists of Gregory Benford, Paul Di Filippo, Sheila Finch, James Gunn, Elizabeth Anne Hull, Paul Kincaid, Christopher McKitterick, Pamela Sargent, and T.A. Shippey.
Pictured below: my Campbell Memorial Award trophy for Mindscan.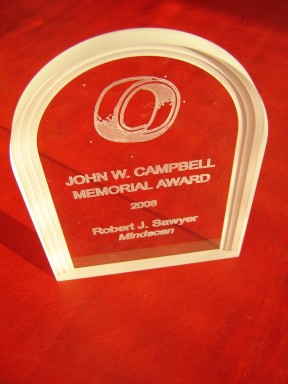 Robert J. Sawyer online:
Website • Facebook • Twitter • Newsgroup • Email