by Rob - January 13th, 2007.
Filed under:
Mindscan
.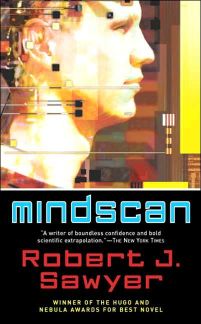 With all this talk about my upcoming novel Rollback, I wouldn't want to forget good old Mindscan, my current book.
And, as it happened, I saw a very nice new review of it today, from Kliatt, the principal reference used by schools and libraries for choosing young-adult material. Says the reviewer, Dr. Lesley Farmer:
Want to read a SF story that creates a movie in your mind? Then Mindscan should be your choice. Jake Sullivan is the appealing protagonist. This is high-quality, clever and thought-provoking near-future SF. The characters are nuanced, and the plot is believable. The story is a nonstop feast and inspiration for a great movie. Recommended.